Casey Letter



Full Name:

Casey Letter

Aliases:

Casey

Age:

16

Status:

Alive

Known Relatives:

Mrs. Letter (Mother)

Hobbies:

Filming her life for her Blog

Abilities:

Filmming

Appearences:
Casey Letter is a girl who films her daily life for her blog on the internet such as The Barn Party she attended. She is portrayed by Ashley Hinshaw.
Before
Matt
and Casey were in a relationship, Casey at first disliked Matt for acting as if he was better than anybody else as the popular kid in school. However since Matt managed to become less of a jerk Casey had feelings for Matt and became his girlfriend. She awkwardly accompanies Matt by being fully in the nude while filming Matt in the bathroom, and half nakedly filming Matt cooking in the kitchen. She was supposedly attacked by
Andrew
inside her floating car when he becomes evil! Her car got destroyed by Andrew. Matt saves her and puts her on the ground at a safe distance. He goes back to confront Andrew at the Space Needle much to Caseys pleeds. She is not seen again for the rest of the film.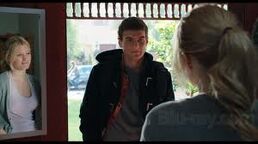 Abilities
Edit
Abilities:
Filmming: Throughout the film, Casey has shown amatuer filmming skills.